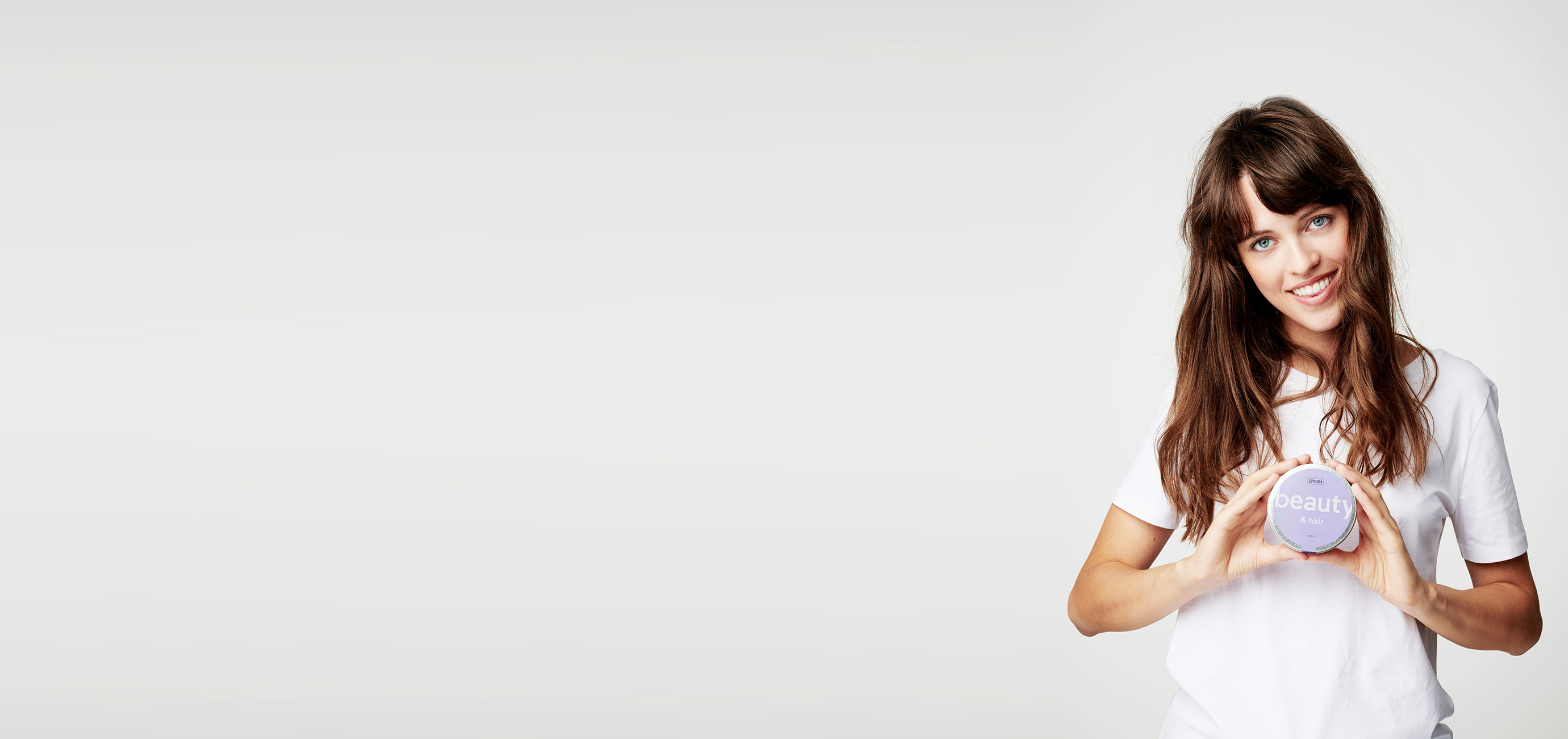 Good to know
The extent to which cellulite is visible depends on the deposits of fat in the fatty tissue in the hypoderm. That means diet plays a major role in the fight against these dimples. Changing your diet and consuming vital substances that strengthen the tissue can help a great deal. Sport, targeted care and massages to boost skin circulation are also important.
Plump, firm skin and shiny hair are signs of health and youthfulness. Environmental influences, stress and an unhealthy lifestyle can make our skin flabby, and lead to brittle hair and nails. With CAPS beauty & hair, natural vital substances come into play that help to strengthen skin, connective tissue, nails and hair from within.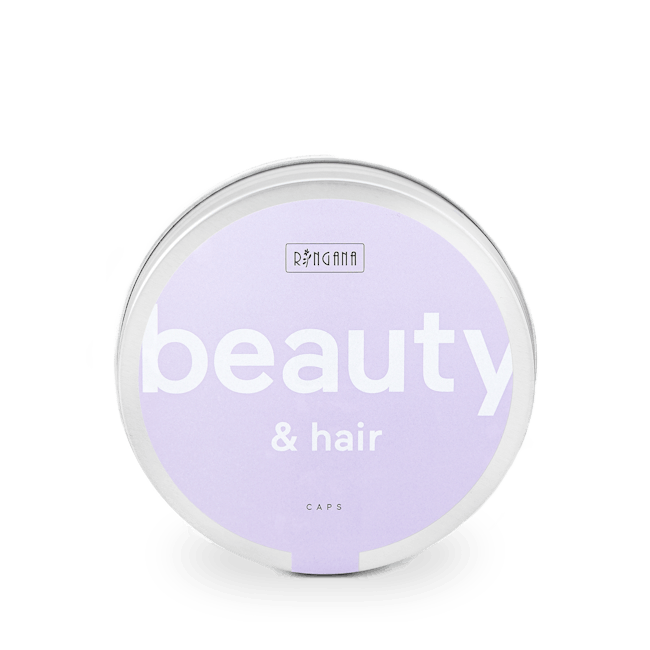 Food supplement with L-carnosine, saw palmetto extract, trace elements and secondary plant substances.
INGREDIENTS

L-carnosine, hydroxypropyl methylcellulose (capsule casing), saw palmetto extract, buckwheat sprout powder, pea sprout extract, hyaluronic acid, melon extract, lingonberry extract, green tea extract, sodium R-lipoate.
NUTRITIONAL INFORMATION
DD = Daily dose
per DD
% NRV° per DD
Standardised active substances
L-carnosine
465 mg
–
Saw palmetto extract
180 mg
–

Cultavit® buckwheat sprout powder contains 

zinc

manganese

copper

167 mg

3,0 mg

0,80 mg

300 µg

–

30

40

30

Anagain™ Nu pea sprout extract
100 mg
–
Hyaluronic acid
45 mg
–

SOD B Dimpless® melon extract

of which superoxide dismutase activity

40 mg

480 IU

–

–

Sodium-R-lipoate

contains (R)-liponic acid

20 mg

16 mg

–

–

LingonMAX™ lingonberry extract

contains proanthocyanidins

Anthocyanins

30 mg

10,5 mg

3,0 mg

–

–

–

Sunphenon® Green tea extract

contains polyphenols

21 mg

18,9 mg

–

–
Copper supports skin and hair pigmentation and contributes to the protection of cells from oxidative stress. Zinc contributes to the maintenance of skin and hair. Manganese contributes to the normal formation of connective tissue and copper aids to maintain it.
Dimpless® is a brand of BIONOV. Sunphenon® is a registered trademark of Taiyo Kagaku Co., Ltd. 
° % NRV = % nutrient reference value according to the Food Information Regulation
V 6.8
A product's ingredients may change over the course of time. If you want to know for sure what a product contains, the respective product packaging provides a list of ingredients.
Hyaluronic acid promotes beautiful, even­toned skin. Manganese and copper contribute to the formation of connective tissue. Zinc from buckwheat germ powder promotes healthy skin, hair and nail structure. Copper from buckwheat germ powder helps to protect cells against oxidative stress.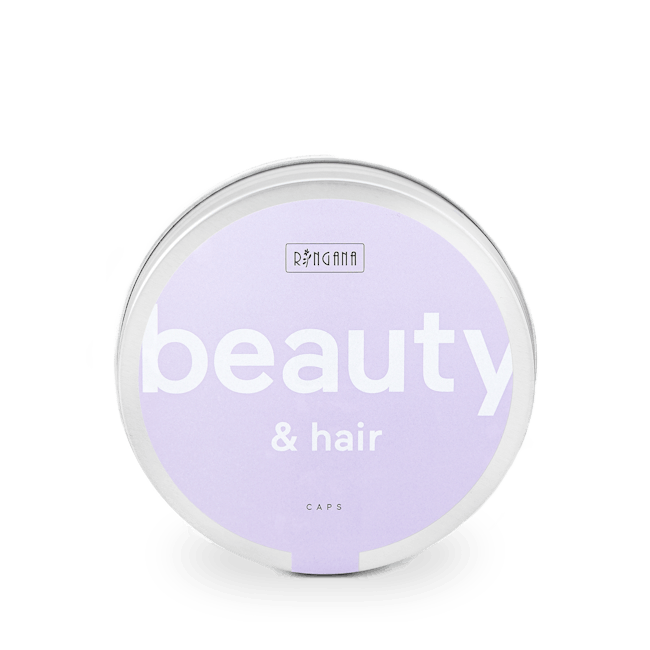 RECOMMENDED CONSUMPTION
Daily dose: 3 capsules daily. For optimum digestibility, best taken at mealtimes with a little water (non-carbonated).
IMPORTANT INFORMATION
The stated recommended daily dose may not be exceeded. Food supplements should not be used as a substitute for a varied and balanced diet and a healthy lifestyle. The product is designed for adults and should be stored out of the reach of young children.
RINGANA CAPS are not a medicinal product, and are not intended to replace consultations with your doctor. RINGANA CAPS are not intended to treat or cure diseases. If you are taking prescribed medication, suffer from health problems, or are breastfeeding or pregnant, consult your doctor before taking RINGANA CAPS.
The product is dry, and should not be stored above 25 °C. CAPS may not be passed on to others. Due to the particular properties of certain ingredients, there may be some discolouration or spotting of the RINGANA CAPS. Packaging made from environmentally friendly tinplate.
Do not use during pregnancy or breastfeeding.