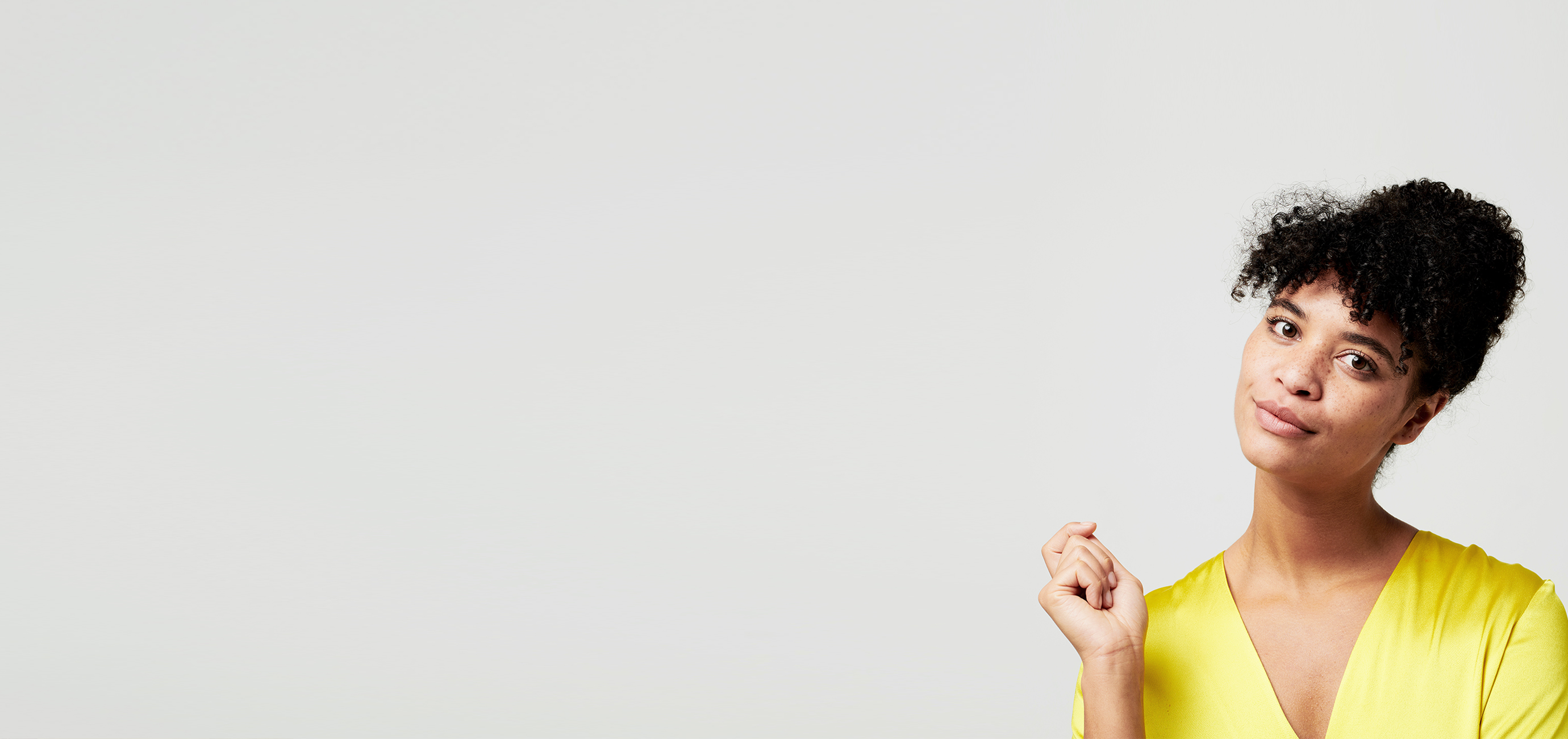 Good to know
One veggie day per week can balance out minor dietary sins, and it's a sensible way of ramping up the metabolism and giving the body a vitamin boost.
Heavy meals and alcohol can put our entire digestive and detoxification system under pressure, so that our organs – and the liver and gall bladder in particular – have to work extra hard. With CAPS d-gest, RINGANA has brought together special plant extracts that give our "cleaning world champions" a helping hand by stimulating production of digestive juices, making foods more tolerable.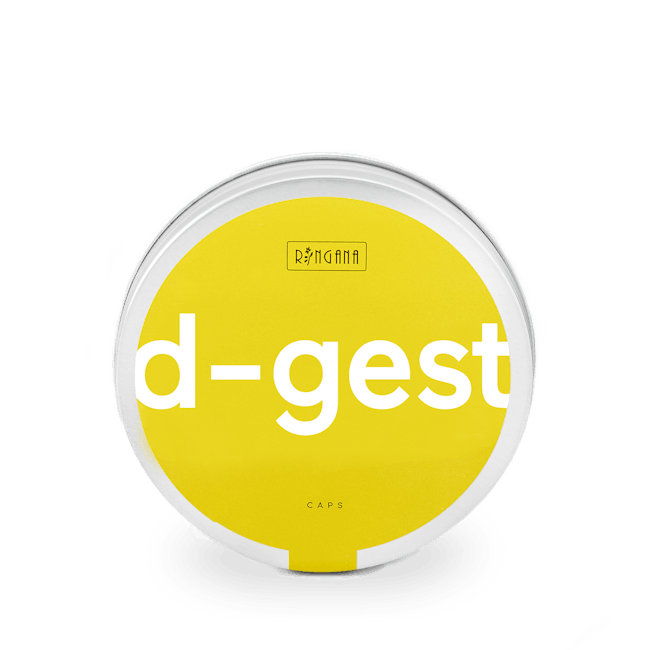 Food supplement with an enzyme complex, plant extracts, choline and zinc.
INGREDIENTS
Enzyme complex from fermentation (amylase, lactase, protease, cellulase, lipase), Artichoke leaf and flower extract, hydroxypropyl methylcellulose (capsule casing), Choline bitartrate, Papaya extract Lithothamnium calcareum algae powder, Milk thistle phospholipid complex (milk thistle extract and sunflower lecithin), Dandelion leaf and root extract, Yellow gentian root extract, Zinc bisglycinate.
NUTRITIONAL INFORMATION
DD = Daily dose
per DD
% NRV° per DD

Standardised active substances

Enzyme complex from fermentation

contains amylase

330 mg

7200 DU

–

–

Lactase

5000 FCC

–

Protease

1800 PC

–
Cellulase

330 CU

–

Lipase

60 FIP
–

Artichoke leaf and flower extract

contains cynarine

330 mg

16 mg

–

–

VitaCholine™ choline bitartrate

contains choline

206 mg

83 mg

–

–

Papaya extract

contains papain

150 mg

200 FIP

–

–

Lithothamnium calcareum algae powder

150 mg

–

Siliphos® milk thistle phospholipid complex

contains silibinin

100 mg

30 mg

–

–

Dandelion leaf and root extract

contains inulin

100 mg

20 mg

–

–

Yellow gentian root extract

40 mg

–

Zinc bisglycinate

contains zinc

7,5 mg

1,5 mg

–

15
Zinc supports the carbohydrate and acid-base metabolism. Choline contributes to the maintenance of a normal liver function. Lactase improves the digestion of lactose for those who have problems in doing so.
VitaCholine™ is a brand of Balchem Corporation. Siliphos® is a registered brand of Indena S.p.A., Italy.
° % NRV = % nutrient reference value according to the Food Information Regulation 
V 1.2
A product's ingredients may change over the course of time. If you want to know for sure what a product contains, the respective product packaging provides a list of ingredients.
 An enzyme complex from fermentation splits fats, lactose, carbohydrates, proteins and fibre. The enzyme lactase can help people who have difficulties with digesting lactose. Great yellow gentian extract helps to increase wellbeing in the digestive tract. Milk thistle­phospholipid with silybin protects the liver and helps it perform its detoxification function. Highly­available zinc promotes the natural metabolisation of fats, carbohydrates and proteins. Choline supports the liver's cleansing function and contributes to normal fat metabolisation.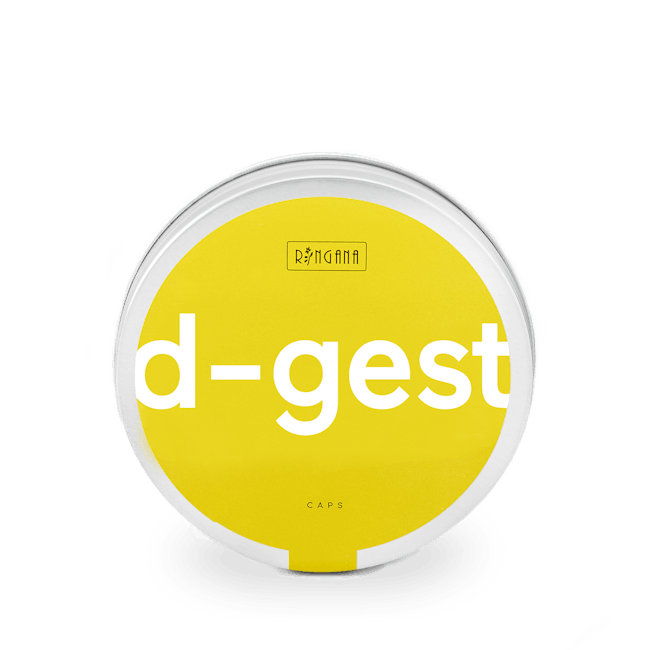 RECOMMENDED CONSUMPTION
Daily dose: 3 capsules daily. For optimum digestibility, best taken at mealtimes with a little water (non-carbonated).
IMPORTANT INFORMATION
The stated recommended daily dose may not be exceeded. Food supplements should not be used as a substitute for a varied and balanced diet and a healthy lifestyle. The product is designed for adults and should be stored out of the reach of young children.
RINGANA CAPS are not a medicinal product, and are not intended to replace consultations with your doctor. RINGANA CAPS are not intended to treat or cure diseases. If you are taking prescribed medication, suffer from health problems, or are breastfeeding or pregnant, consult your doctor before taking RINGANA CAPS.
Lactose intolerance comes in many different forms. Those concerned should seek the advice of a nutritional expert regarding the function of these substances.