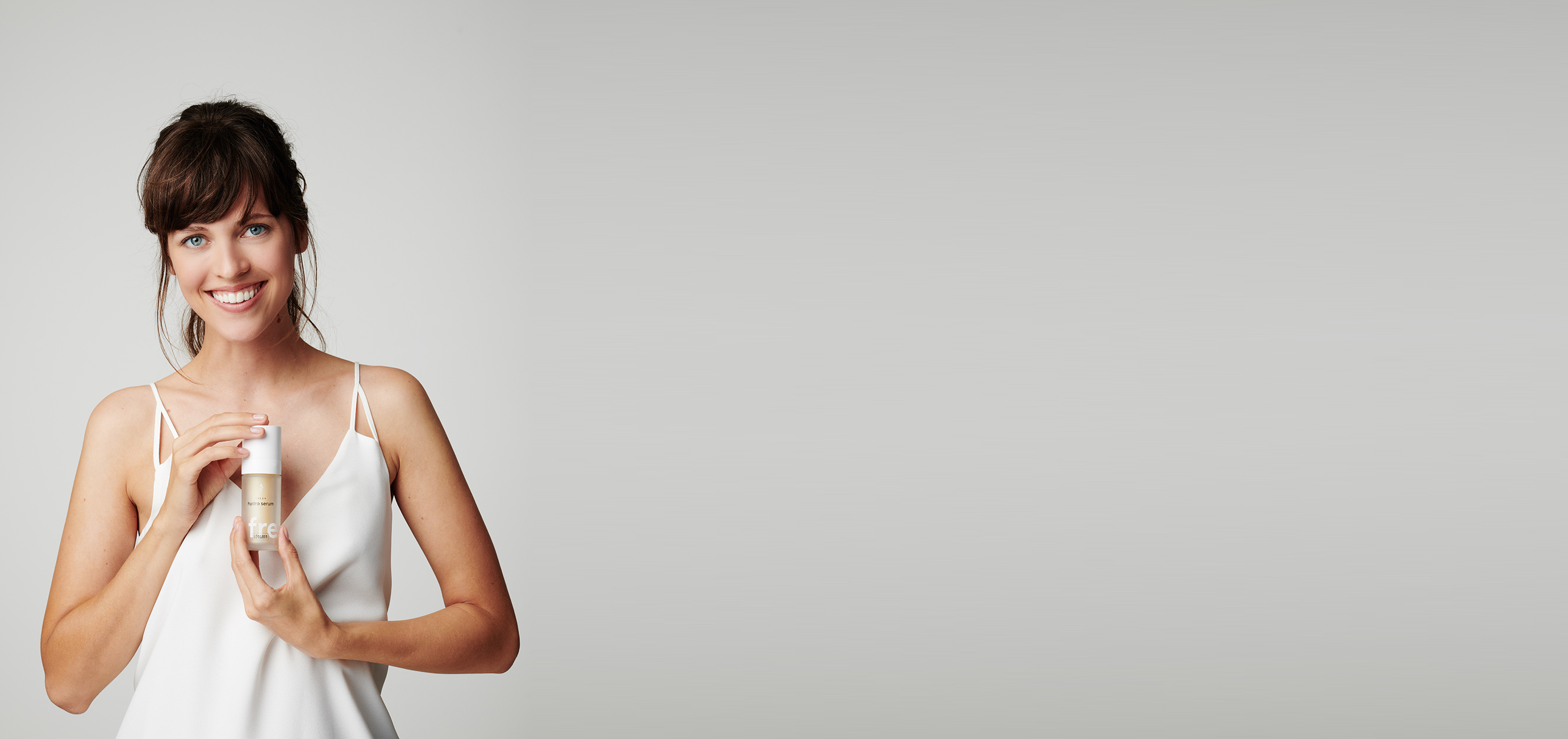 Good to know
Apply FRESH scrub to your face once or twice a week. It minimises skin irritation and helps to avoid tightness. Focus in particular on how you treat the T-zone, removing excess sebum and thus reducing shine. Then apply enough moisture to your skin. The FRESH hydro serum is perfect for that.
This thirst quencher for dry skin provides maximum hydration. The skin barrier is strengthened, dryness lines are visibly reduced, and the skin looks plump and radiant again.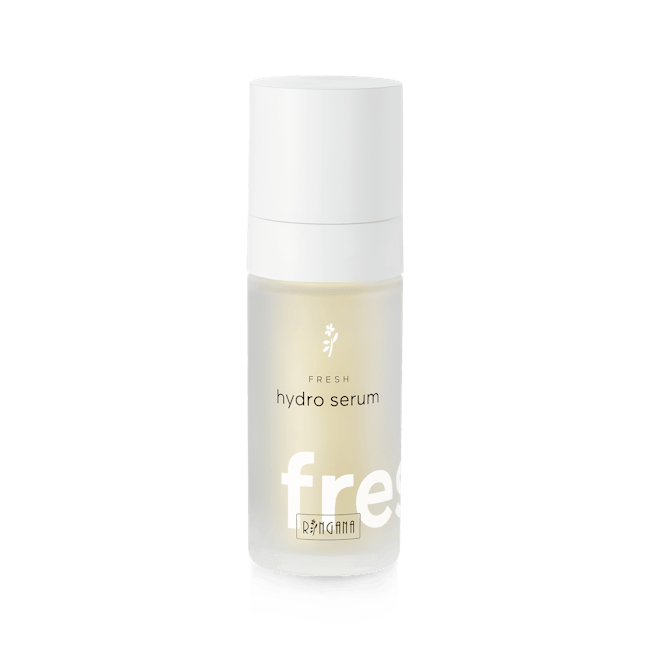 Aqua (water), Rosa damascena flower extract* (rose water), Glycerin (plant-derived moisturising agent), Cetearyl olivate (microcell emulsifier from olives), Sorbitan olivate (microcell emulsifier from olives), Xylitylglucoside (moisturising birch sugar complex), Xylitol (natural sugar alcohol), Ectoin (powerful moisture regulator that helps protect skin), Anhydroxylitol (restructuring birch sugar complex), Nigella sativa seed oil* (black cumin oil), Ceramide 3 (the natural skin barrier-supporting lipid), Totarol (antioxidant, antimicrobial totara tree extract), Olea europaea leaf extract (moisturising and antioxidant substance from olive leaves), Aloe barbadensis leaf juice* (fresh aloe vera gel), Elaeis guineensis fruit extract (natural totopherols and tocotrienols), Hydrolyzed olive fruit (antioxidant olive fruit extract), Hydrolyzed walnut extract (nurturing walnut extract), Hydrolyzed grape skin (grape skin extract with skin-protecting properties), Sodium hyaluronate  (hyaluronic acid), Ubiquinone (Coenzyme Q10), Tocopherol (vitamin E), Fagus Sylvatica bud extract* (invigorating beech tree bud extract), Prunus cerasus bud extract* (skin-nurturingcherry tree bud extract), Galactaric acid (antioxidant from pectins), Prunus persica bud extract* (moisturising peach tree bud extract), Vitis vinifera bud extract* (protective grapevine bud extract), Hydrolyzed tomato skin (tomato skin extract with anti-ageing properties), Citric acid (citroenzuur), Phenethyl alcohol (rose alcohol), Capryloyl glycine (compound of glycine and caprylic acid), Undecylenoyl glycine (compound of glycine and undecyclenic acid), Dehydroxanthan gum (plant-derived gel-forming agent), Lecithin (plant-derived membrane component), Arginine (essential amino acid)
* Ingredients from organic farming
V 3.7
A product's ingredients may change over the course of time. If you want to know for sure what a product contains, the respective product packaging provides a list of ingredients.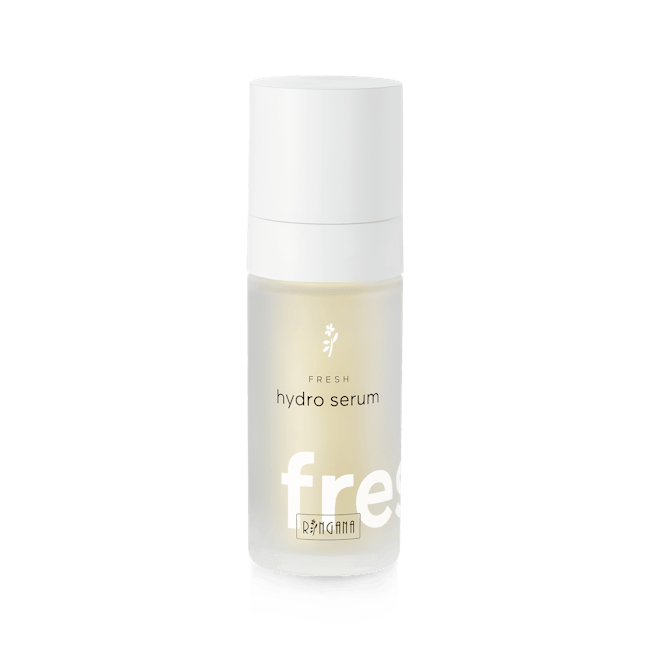 Ectoin is an amino acid that for millions of years has been ensuring the survival of microorganisms. As a skin care ingredient, ectoin improves the skin's hydration levels  and protects it against stress. Carefully selected bud extracts also provide cell protection.  Hyaluronic acid improves the skin's ability to bind moisture, lending it firmness and elasticity.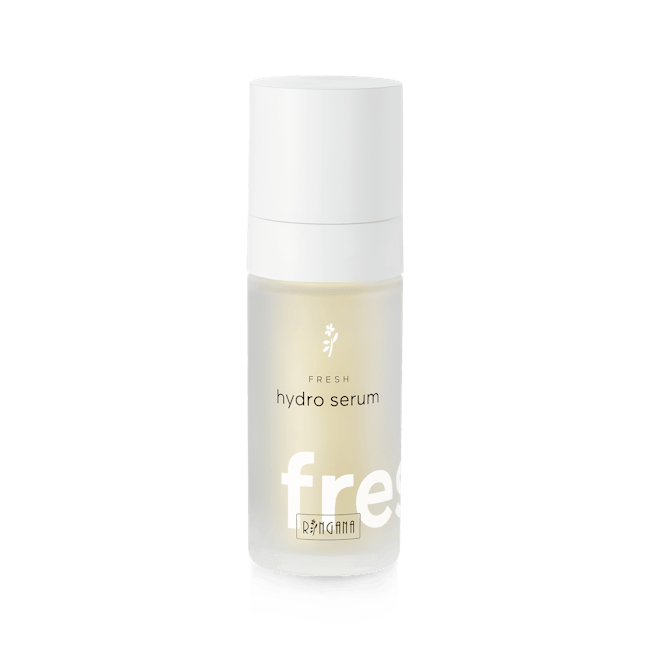 Apply FRESH hydro serum after cleansing. This highly concentrated formulation boosts the effect of subsequent care products used, such as FRESH cream.